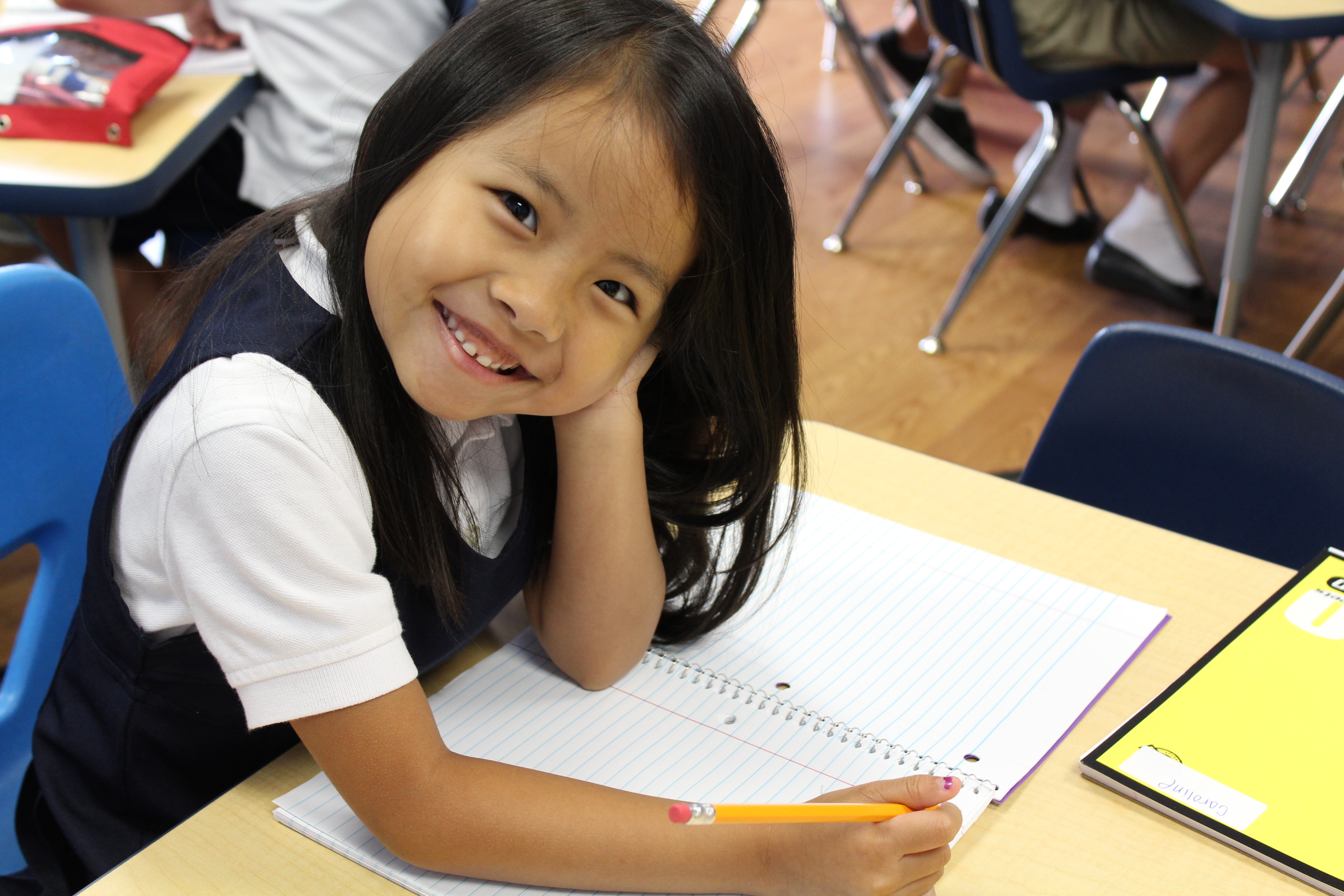 Dress Code compliant Tops and Bottoms are approved from three vendors: Lands' End, Tommy Hilfiger, and French Toast
Tops:
Permitted Colors [Solid]: White, Navy, and Maize
Fabrics: Cotton or Cotton/Polyester Blend
(Maize is only available through Lands' End)
Permitted Styles:
• Short & Long Sleeve Standard Polos
• Cardigans
• Sweater Vests
Please note: Coats/Jackets are approved for outdoor use only. Jackets should be free of images, text, or large branding. No sweaters, sweatshirts, hoodies, etc.
Shirts must remain tucked at all times and undergarments should not be visible.
Bottoms:
Permitted Colors [Solid]: Navy and Classic Khaki
Fabrics: Cotton, Cotton/Polyester Blend, or Polyester/Rayon Blend
Permitted Styles for Boys and Girls:
• Shorts (Pleated or flat front. Length may be no higher than 2 inches above knee)
• Classic Full-Length Pants (Pleated or flat front)
Additional Permitted Styles for Girls:
• Skirts (Must meet the knee in front and back, knit shorts must be worn underneath)
• Skorts (Length may be no higher than 2 inches above knee)
• Jumpers (Must meet the knee in front and back, knit shorts must be worn underneath)
• Navy blue or white tights or knee socks may be worn in conjunction with skirts and jumpers
For all bottoms, please note: No capris, skinny pants, cargo pants, zip on/off legs, or similar styles.
Belts: May be worn and must be solid Black, Brown, or Navy.
Shoes: Permitted Colors: Solid White, Navy, Black, or Brown. Any laces must match shoe color. Socks are required to be worn with all shoes.
Must be a single color without obvious branding, e.g. Nike swoosh, Adidas symbol, etc.
Sparkles, lights, additional 'flair', etc. are not permissible.
Shoes must be closed toe.
Socks: Permitted Colors [Solid]: White, Black, Brown, or Navy.
Jewelry:
• Watches: May be worn 1st grade and up, but cannot be distracting from classroom environment.
• Earrings: Stud earrings and hoops up to ½" are permitted for girls. Single/double earlobe piercing is permitted – Additional body piercings are prohibited.
• Necklaces: One pendant necklace chain is allowed on small chain and worn inside the shirt for safety. No additional jewelry is permitted.
No additional accessories may be worn during the school day, e.g. scarves, hats, bracelets, etc.
Hair:
• Girls' Accessories: Small bows in the school colors are allowed. Clips for flyaway hair and ponytail holders may be worn in school colors or in black/brown. Headbands are approved for 1st grade and up.
• Boys' Hair: Must be maintained above collar.
• All haircuts: Vision may not be impaired. Fashion cuts, e.g. mohawks, fauxhawks, etc. are prohibited
Backpacks, bookbags, and lunchboxes:
Must be appropriately sized so that your child can carry or wear it. Wheels or retractable handles are not permitted. Colors/patterns are acceptable, with the exception of bright/neon colors. Slogans, gadgets, lights, and other accessories are prohibited from being on or affixed to the backpack/bookbag.
The backpack/bookbag will only need to transport a few light items on a regular basis, plus the lunchbox, if you choose to use one. Smaller and lighter bags are sufficient and better for your child's comfort. Please keep in mind normal cubby sizes (small) and the size of your child.
Where to Buy:
We have chosen three manufacturer-vendors for our school uniforms, Lands End, Educational Outfitters, and French Toast.
Lands' End may be purchased online (http://www.landsend.com/pp/SchoolSearch.html?action=landing&selectedSchoolNum=900168303) or at Sears stores; Educational Outfitters may be purchased online (http://raleigh.educationaloutfitters.com/find-my-school/youngsville-academy/) or at their Raleigh location; French Toast may be purchased online (www.frenchtoast.com school code: QS5YAXA) or at local retailers such as Target. Tommy Hilfiger items may be purchased at www.globalschoolwear.com school code: YOUN01).
No substitutions from other manufacturers or brands are permitted.
Dress Code Policies: Non-Exhaustive
With countless styles, it is not feasible to fully outline the non-permissible clothing. As such, non-permissible items are not limited to those provided as examples above. When in doubt, please choose a compliant item or ask if the item meets the dress code standards prior to your child wearing the article to school.
The school reserves the right to determine whether any item is in compliance with dress code.