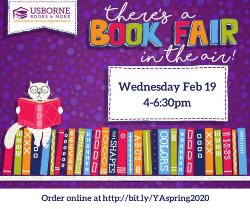 What

Book Fair

When

2/19/2020, 4:00 PM

–

6:30 PM

Where

Youngsville Academy Gym
Usborne will be hosting a Book Fair on February 19th from 4:00-6:30pm. The sales in the past have only had $5.00 selections. This book fair, however, will include a wider range of titles, authors, and reading levels. The book prices will range from $3.99 and up. We are excited that students and families will have a wider selection of books to choose from!

The book sale is scheduled for after school so that parents and families can peruse the selection together. Parents or guardians must attend with their YA student at this book fair. The time range between 4:00-6:30pm will allow families to come when they are able and should spread us out enough so that ample parking is available.

Payment options:

Tax is additional. Acceptable payment options: cash, cards, and checks (to Usborne Books & More).